What is An Optical Encoder?
An optical encoder is an electro-mechanical motion sensor. It is a feedback device consisting of an LED light source, a photodetector and a disc with slot-like apertures. A light pulse is created when an aperture opening in the rotating disc allows light from an LED to pass through the disc and strike a paired photodetector. The photodetector typically consists of an array of photodiodes, which are arranged in such a way as to provide two signals which are out of phase by 90 electrical degrees. The light pulses alternate between on/off as the disc opens/closes the light path with the rotation of the shaft.
Optical rotary encoder discs can be fabricated with different numbers of slots within their 360-degree perimeter. Some are as low as 24, while high-resolution optical encoders may have 20,000 or more. As the shaft rotates, the optical encoder converts each light pulse to an electrical pulse which is then transmitted to a motion control system.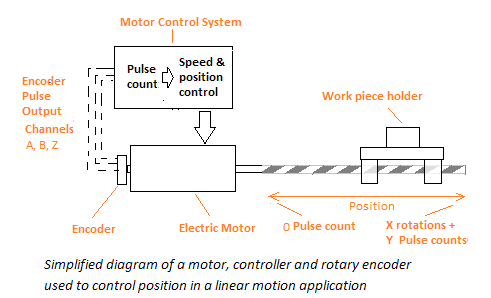 A motion control system coupled to an optical encoder is designed to count the number of pulses an encoder generates in order to determine the rotational position of a shaft, its speed, its rotational direction or its rate of acceleration. It serves to close a feedback loop in which the controller is used to manage a device's linear position such as workpiece position in a CNC machine or gantry style robot, or its angular/rotational position in web type applications.
Optical encoders typically have three output channels. Channels A and B provide count and direction signals, while a Z channel is used to verify accuracy of the overall count: it emits a pulse once every 360 degrees.
What Does an Optical Encoder Look Like?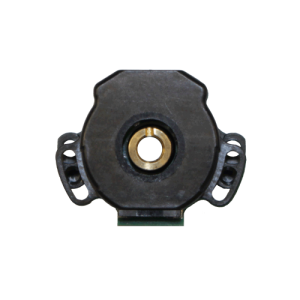 A traditional through bore rotary encoder has a hollow shaft that is mated to a motor shaft of a matching size. The encoder body is typically attached to the back of a motor frame or casing and the encoder shaft is attached to the motor shaft with set screws. This creates a highly compact unit.
What Does the Encoder Measure?
As mentioned above, optical encoders provide signals that allow controllers to measure all forms of motion, including position, direction, velocity and acceleration.
Why Are Optical Encoders Important?
Optical encoders provide highly accurate feedback signals used to verify the actual motor or linear actuator position, velocity and acceleration compared to what the controller commanded.
Are All Optical Encoders Created Equal?
Quantum Devices' optical rotary encoders use a patented interlaced photodiode array designed to translate light intensity to electrical current with a high degree of accuracy. There are fundamental design differences between our encoders and our competitors which affect the output signal quality. We maximize signal generation, providing better noise immunity and allow for greater total indicator runout (TIR). We also design our discs to minimize the chance of collecting debris which can cause obstructions to the light path.
What Applications Are Optical Encoders Used In?
Lab test equipment
Centrifuges
Spectrometers
Medical equipment
CT and other scan bed systems
High torque applications in very restricted spaces
Robotics, ASRSs, AMRs and AGVs
Programmable inspection equipment
Chemical dosing equipment
Industrial or commercial equipment in general
How Can We Help You?
Contact Quantum Devices today to learn how our high quality, high-performance encoders are the industry leader in the motion control industry.