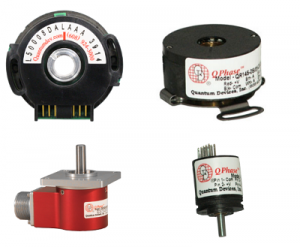 Encoders are used in a wide variety of applications involving motion controls and monitoring. Quantum Devices is a leading manufacturer and supplier of incremental optical rotary encoders. Our high-performance encoders offer numerous configurations to meet varied motion control applications across a broad range of industries. We also manufacture custom photodiodes for a multitude of industries.
Shop our encoder store or contact us online. We can guide you toward the right encoder for your application or customize any encoder to match your requirements.
Industrial Encoder Applications
Industrial and commercial applications that use optical rotary encoders include:
Industrial automation
Elevators
Rotating radar platforms
Flight simulators
Off-Highway Vehicles (OHV)
Galvanometer scanners
Chemical dosing pumps
Sawmills
Pulp & paper mills
Steel mills
Material handling
Textile manufacturing
Food & beverage
Printing
Packaging
Oil & gas production
Wind turbines
Functional Encoder Applications
Encoders record metrics from rotary and linear movement and translate them into digital signals for use by a motion control system.
Angle measurement
Angle encoders measure rotational movement and provide precise angular measurement down to arc seconds.
Learn more about using an optical encoder to measure angles.
Position measurement
Incremental rotary position encoders measure the rotational movement of a motor shaft, which is converted into position measurement.
Speed measurement
Encoders can be used for speed measurement based on the linear relationship between rotational speed and pulse frequency.
Linear distance measurement
Rotary encoders used to monitor position can also provide linear distance measurement based on the number of pulses per arc length.
Customized Solutions for Encoder Applications
While encoders are all used for the same general functions, individual encoder configuration and application capabilities vary widely. Since 1999, Quantum Devices has been known for innovation in encoder manufacturing.
Our full line of high-quality, high-performance encoders fits a wide variety of industries and applications. Order an encoder online, or reach out to us with questions. Quantum Devices engineers can help you customize an encoder to meet the requirements of your specific application.