Silicon Photodiode:
Quantum Devices offers the ability to customize a planar silicon photodiode with either single or multiple diode structures on a single chip. This configuration is a p-on-n structure and can be used to detect the presence and absence of minute quantities of light. The linearity of this response can range over several orders of magnitude, from 10 picowatt/cm2 to several hundred MW/cm2. Our knowledgeable and friendly staff are available to support the design of photodiodes from concept through final application of the product in manufacturing. Design flexibility has made photodiodes a component of choice for many applications as low-cost silicon wafer fabrication technologies continue to provide high reliability and long-term performance.
Design Features: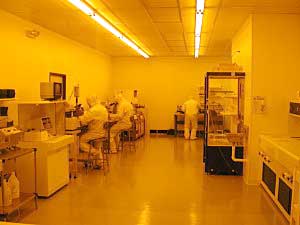 Low leakage devices
P on N type
State of the art class 1000 clean room
Computer aided designs
Custom Packaging
Hybrid Capabilities
Low micro-inch pattern geometries
Interdigitated arrays for encoder applications
Shadow Technology (Interdigitated Sensing Technology)
Shadow Technology sensor designs provide several distinct advantages over traditional differential sensing encoder systems. The ability of this technology to discriminate typical optical system errors as common mode noise increases performance reliability while simplifying manufacturing requirements for optical encoders.
Engineering to Packaging In One Convenient Location
From on-line schematics to custom packaging for simplified assembly, we supply all your electro-optical component needs at Quantum Devices' central Midwest location. Our engineering expertise, advanced technology, highly controlled manufacturing quality, stable domestic work force, and customer parts inventory for just-in-time delivery, make Quantum Devices an invaluable manufacturing partner.
Our Cleanroom is Getting an Upgrade
We're upgrading all aspects of our cleanroom to accommodate new fabrication techniques. By making this investment instead of outsourcing our fabrication, Quantum Devices is maintaining the quality our customers have come to expect. Learn more in this interview with a QDI manufacturing process engineer.
Please contact QDI online to learn more about our photodiode capabilities.