Incremental Rotary Encoders for Automated Guided Vehicle (AGV) Control
January 15, 2020
Warehouse automation systems have progressed dramatically over the last decade thanks to improvements in software, actuation, sensing, communication and control technology. AGVs have benefited greatly from these advances, and as a result are being applied to a broadening range of applications.
AGVs have defined paths or areas within which they can navigate. Navigation is achieved by any one of several means, including:
Magnetic or optical strips
Inertial guidance
Laser guidance
Vision systems
Buried inductive wires
Incremental Rotary Encoder AGV Guidance
Although there are different approaches to AGV guidance, each system must translate its trajectory into physical rotary motion and directional control. This is accomplished with drives, motors, sensors and an on-board controller. The key sensors used in AGV motion and directional control are incremental rotary encoders.
These incremental encoders are widely used as they are designed to provide very accurate, real-time data about AGV motor, gearbox and wheel speed, acceleration and position.
Steer Control – Speed Coordination and Drift Correction with Incremental Rotary Encoders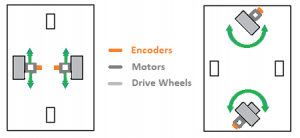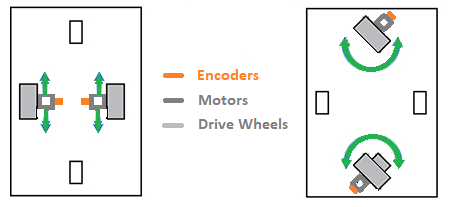 Differential speed control is the most common AGV steering method. It uses two independent drive wheels, each driven at the same speed to go straight, or at different speeds in order to turn. Rotary incremental encoders are mounted on each drive motor shaft and provide real time speed, acceleration and rotational position information to the AGV controller.
This allows positive navigational management and directional corrections to compensate for mechanical system discrepancies and wear as well as inconsistent environmental conditions.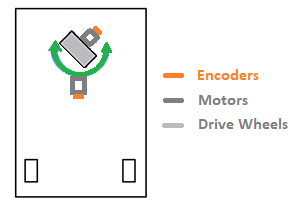 Steered wheel control is another common method that is used primarily in three-wheel vehicles such as forklifts. In this configuration, the drive wheel is also the turning wheel. One motor and incremental encoder combination is used for forward and reverse motion, while a second motor and incremental encoder combination is used for steering. This approach offers better path following and provides very smooth turning. additionally, unlike differential control AGVs, steered wheel control vehicles can also be used to tow.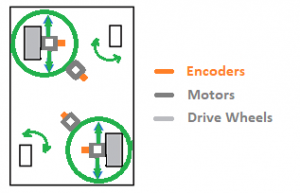 A third type of AGV combines differential and steered control methods. Two independent steer/drive motors with matching incremental encoders are placed on diagonal corners of the AGV. Swiveling casters are placed on the opposing corners. This allows a vehicle to turn in an arc. It can also move sideways or in any direction and it can drive in differential mode in any direction.
In each of the design approaches described above, optical incremental encoders are paired with a motor in order to provide the AGV controller highly precise feedback signals. Quantum Devices' encoders are designed to provide the precision AGV designers require, thanks to unique manufacturing techniques and application specific LEDs, photo diodes and ICs. (Modular Optical Encoder Comparison)
In addition to superior electronic componentry and larger openings for incremental, index as well as commutation channels on the encoder disc, Quantum Devices offers leading edge commutation options that allow OEMs to pair the same encoder with a variety of BLDC motors.
Some Typical Characteristics of Quantum Devices' Incremental Encoders Include:
Bearingless modular encoder design
Low profile assembled height
Resolutions up to 8192 lines per revolution
4, 6, 8 or 10 pole commutation
Easy lock-n-twist assembly feature
Through bore sizes up to 0.375″ diameter
Up to 1Mhz frequency response
High noise immunity
RoHS construction
Hub to shaft uses two 3-48 set screws
Hermetically sealed LED
Multiple mounting options including resolver size 15
Custom Incremental Encoder Design for OEMs is Quantum Devices' Mission and Forte
If any unique encoder design or functionality is necessary for a specific application, Quantum Devices' custom products engineering group is always ready to examine and respond to requests for unique OEM specifications.
Equipment and controls designers can quickly order standard products for initial prototyping. (QM35 Encoder).
Simple and Quick Incremental Encoder Installation
As a producer of state-of-the-art incremental encoders, our team of engineers is very sensitive to the importance of making its product simple to install. Where traditional and BLDC encoder installation has often required special tools and timing devices, Quantum Devices has developed simple, fool-proof assembly and timing procedures along with clear instructional videos.
BLDC Commutation Setup Made Easy
Brushless Direct Current (BLDC) Motor Commutation Made Easy
Q35 Incremental Encoder Assembly
Quantum Devices QM35 and QML35 Installation Animation