OEM Encoder Solutions
We partner with OEM equipment manufacturers to provide application-specific encoders for servo motors, robotics and many other applications. We can accommodate special design requests and deliver custom solutions that add value to your equipment and automation systems.
Learn why Quantum Devices is uniquely positioned to provide OEM encoder solutions for your most challenging application:
Encoders for Every Market
Our high-performing encoders offer numerous configurations to meet a broad range of motion control requirements in manufacturing, simulation, printing and more. From medical labs to warehouse distribution centers, Quantum Devices encoders are used by some of the world's largest companies.
Don't see what you need in the specs? We can make it happen. We also manufacture custom photodiodes.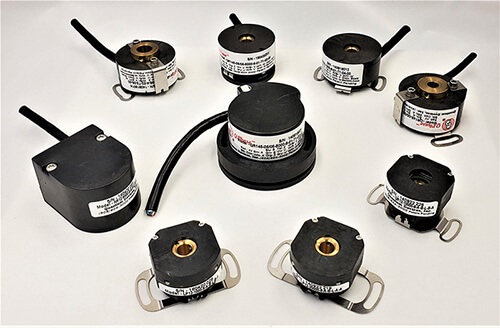 Buy Online – 48 Hour Turnaround
We offer a limited selection of encoders for sale online as a convenience for engineers and prototypers who need encoders with fast lead times for project development.
For high-volume orders, please contact us directly.
Free Samples for Qualified Projects
Quantum Devices offers free encoder product samples on a case-by-case basis. Our prototype sample encoders are manufactured to the same standards as our production units.
Please contact us to share your project and request samples for research and testing.

Si Photodiodes
Quantum Devices has its roots in manufacturing silicon photodiodes. From online schematics to custom packaging for simplified assembly, we can supply all your electro-optical component needs.
Learn more about our photodiode manufacturing capabilities:
Singular Encoder Supplier
Unlike most encoder suppliers, Quantum Devices is a nimble and vertically integrated manufacturer. We pride ourselves on unmatched responsiveness to customer needs, including requests for custom-designed encoders.
Whether the encoder you need got obsoleted or doesn't exist yet, we can help.