Quantum Devices Introduces Highly Robust Encoder
September 2, 2020
Quantum Devices, Inc. develops QR145 Optical Rotary Encoder that stands up to harsher environments at advantageous OEM volume prices.
Quantum's QR145 Optical Rotary Encoder/IP66 option is a fully enclosed encoder that overcomes cost and performance limitations of other fully enclosed encoders, whether of magnetic or traditional mechanical design. This new product option is intended to provide highly competitive prices for high volume OEMs with equipment that operates in harsh production environments with significant shock, vibration or moisture.
The QR145 with IP66 option uses a conductive carbon fiber "turtle" housing that totally encloses the encoder and provides both environmental and EMI protection. It protects the encoder by preventing ingress of dust, oil and water as well as metallic chips, wood dust or other common industrial particle and debris types. This makes it ideal for pharmaceutical and medical production and packaging systems, CNCs, all forms of robotics and a host of other motion control applications.
The encoder can be mounted on motor shafts up to 0.375" in diameter, and bolts to most any motor frame. The bearing construction provides extra protection and reliability in applications that produce shock and vibration.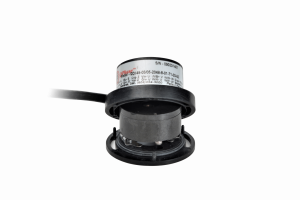 Fully Enclosed QR145 Optical Rotary Encoder Hits Sweet Spot on Price
Unlike other fully enclosed optical encoders, which carry a high price tag, Quantum's QR145 / IP66 option offers better performance at a more affordable price. Though many engineers turn to magnetic encoders to achieve IP66 compliance, they risk having degraded signal quality and inferior accuracy and repeatability. Magnetic encoders are also susceptible to EMI interference.
Key Design Features of the Q145 with IP66 Option
This encoder has high noise immunity and a 500 kHz fundamental frequency response. It is low profile with a 0.87" assembled height. Its resolution direct reads up to 5000 lines per revolution and it has 4, 6 or 8-pole commutation.
It has through shafts up to .375" (10mm) diameter and 1.575", 1.812" bolt circle or size 15 resolver mounting.
With easy installation and setup, this low-profile rotary encoder will deliver high-profile performance.
Find all design features, specifications and pricing for the QR145 model or contact us to request customization.
About:
Quantum Devices, Inc. is an ISO 9001:2015 certified company that specializes in the design and development of standard and custom high-performance incremental encoders. Vertically integrated manufacturing ensures full control of product quality based on expertise in photodiode fabrication, electrical assembly, injection molding and metal component machining. Custom product specifications ensure successful installation, operation and maintenance in a broad variety of motion control industries and applications including robotics, and medical equipment.