Programmable Rotary Encoder
October 7, 2019
Quantum Devices, a rotary encoder manufacturer, recently introduced a new programmable commutating encoder. In response to industry demand for reduced labor time and increased reliability of installation, Quantum Devices developed the QM35 EZ-COMM.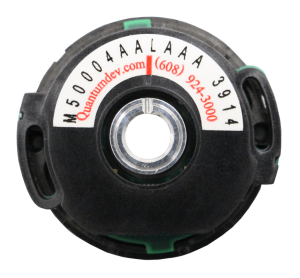 Motion control applications utilize encoders to translate position, or motion of a shaft or axle, to analog or digital output signals. Some of these applications also require a method to commutate a brushless direct current (BLDC) motor. The QM35 EZ-COMM is the next generation solution to commutating a BLDC motor while also provided high quality incremental feedback.
Commutation is the process of switching current in the motor phases in order to generate motion. BLDC motors required external devices to time the commutation of the motor. Typically, a hall effect sensor, or a commutating encoder, would act as this timing device. But in order to install them correctly to the BLDC motor, the installation process requires a technician to mechanically clock the motor phases with the encoder/hall effect sensor. This method of installing a commutation device requires specialized equipment, trained technicians and time.
The QM35 EZ-COMM programmable encoder was designed to eliminate the need for special equipment and highly skilled technicians as well as to reduce assembly time. After a simple mechanical assembly of the encoder to the motor, the EZ-COMM program will time the encoder to the BLDC motor with the press of a button. By utilizing an on-board processor, the encoder can learn its position on the motor relative to the motor windings. Once this location is learned, the encoder will generate highly accurate commutation signals to drive the motor.
Quantum Devices is an ISO 9001:2015 certified company who takes pride in their encoder manufacturing practices. By utilizing hermetically sealed LEDs, oversized interlaced photo diodes, and with the easy lock-n-twist assembly features, Quantum Devices rotary encoders are made to assemble easily and reliably and boasts superior performance.
Whether your needs are for a standard encoder, a custom encoder or the ease of a programmable commutating encoder, Quantum Devices' engineers can assist you in specifying which rotary encoder will suit your application the most favorably. Contact Quantum Devices today.
Visit the product page to learn more about the QM35 EZ-COMM.
Quantum Devices is an ISO 9001:2015 certified manufacturer.