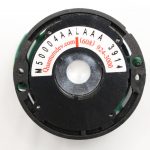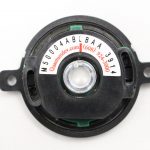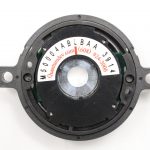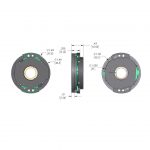 Download Spec Sheet
QM35 EZ-Comm Optical Rotary Encoder
Overview
About QM35 EZ-Comm Optical Rotary Encoder
The Quantum Devices EZ-Comm system is the fastest and most economical way to align an optical encoder's commutation channels to a motor. EZ-Comm was designed as a programmable encoder to reduce assembly cost for high volume manufacturing. By eliminating multiple steps from the typical timing of an encoder and motor, EZ-Comm saves manufacturing time and reduces assembly cost. EZ-Comm is integrated into the high performance, low profile modular design of the QM35. QM35 EZ-Comm is ideal for high volume OEM applications and priced competitively for all sizes of motion control projects. As simple as a push of a button, QM35 EZ-Comm is the newest and simplest way to commutate  your BLDC motors.
Buy this encoder online or contact us for help.
Design Features:
Programmable commutation
Full complement outputs
Bearingless modular design
Low profile assembled height of 0.43"
Resolutions up to 5000 lines per revolution
4, 6, 8, 10 or 14 pole commutation
Easy lock-n-twist assembly feature
Through bore sizes up to 0.375" diameter
Up to 675 kHz frequency response
High noise immunity
RoHS construction
Hub to shaft uses two #3-48 set screws
Hermetically sealed LED
Multiple mounting options including resolver size 15
Specifications
Electrical Specifications
Input Voltage
5 VDC ± 5%
Input Current Requirements
65 mA typical, 100 mA max plus interface loads
Input Ripple
2% peak to peak @ 5 VDC
Output Circuits
D = 26C31 line driver (RS-422 or single-ended TTL)
E = ABZ 26C31 line driver, UVW open collector (no U' V' W')
Incremental Output Format
Quadrature with A leading B for CCW rotation viewed from the encoder top
Max Operating Frequency
< 5000 PPR = 500 kHz or 15,000 RPM
5000 PPR = 675 kHz
1000LC-10P, 1024LC-10P, 2000LC-10P, 2048-10P and 2048LC-14P = 7000 RPM
Commutation Format
Three phase 4, 6, 8, 10 or 14 poles (other pole counts upon request)
Commutation Accuracy (UVW)
See Specification Sheet
Interpolation Factors
1000/1024 PPR = 2x
2000/2048 PPR = 4x
2500 PPR = 5x
4000/4096 PPR = 8x
5000 = 10x
Environmental Specifications
| | |
| --- | --- |
| Storage Temperature | -40 to 125°C |
| Operating Temperature | -30 to 115°C |
| IP Rating | IP40 |
| Humidity | 90% non-condensing |
| Vibration | 20 g's @ 25 to 2,000 Hz |
| Shock | 100 g's @ 6 ms duration |
Mechanical Specifications
Bore Minimum Diameter
Bore size +0.0002"
Recommended Shaft Tolerance
+0.0000/-0.0005"
Minimum Shaft Engagement
0.400" [10.2 mm]
Allowable Shaft Runout
0.002" [0.05 mm] TIR (±0.001" shaft radial play from initial shaft position of assembled encoder)
Allowable Axial Shaft Movement
± 0.010" [± 0.25 mm]
Mounting
A = 1.280" bolt circle/size 15 resolver
B = 1.812" bolt circle
Dynamic Commutation Adjustment Range
30° mechanical
Moment of Inertia
8.0 x 10⁻⁶ oz·in·s²
Info & Pricing
Visit our Encoder Store where the QM35 EZ-Comm Optical Rotary Encoder is available to ship within 48 hours!
Visit Encoder Store
* Some limitations apply
---
More Information & Pricing
To get more information and pricing about this product, please tell us more about what you are looking for below and we can get you what you need:
Consult factory for configurations not shown (e.g. resolution, commutation, etc.).

Create an account
Create an account to gain access to all of our 3D models!
Create Account
Create an account to gain access to all of our 3D models!
Forgot Password