What is a Transmissive Rotary Encoder?
July 1, 2019
A transmissive rotary encoder, also known as a shaft encoder, is an optical, electromechanical device that is used to measure and control rotational motion in a very broad range of industries and applications. Internal sensors detect interruptions in a light source and send corresponding analog or digital signals to system controllers. The signals enable control systems to monitor and control direction, acceleration, speed and position in motion control applications.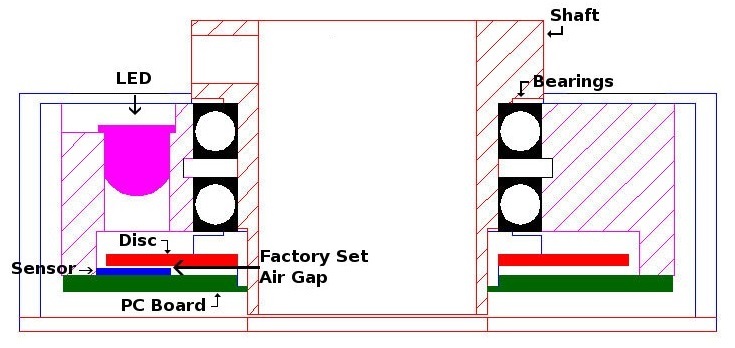 An optical rotary encoder consists of a rotating disc, a light source, a photo detector and a signal conditioner to convert the analog signals to digital square wave forms.
The rotor disc can be made of several different elements – metal, glass or polymer. This disc is comprised of opaque and transparent tracks and is mounted to a rotating shaft. An encoder has one or more light emitting diodes (LEDs) and photodetectors arranged so that light is received through open sections of the disc and sensed on the other side. After amplification and conversion, these signals are available for position and speed evaluation.
There are two main types of rotary optical encoders: absolute and incremental. The absolute encoder output indicates the current angular position of a shaft. Incremental encoder output provides information about the motion of the shaft, which typically is processed in an external control device where it is converted into information such as position, speed and distance.
Quantum Devices is a manufacturer of high precision, optical incremental encoders.
Motion control systems use feedback from incremental rotary encoders to determine:

Pulse count
Direction
Distance
Position
Rate
RPM (Revolutions Per Minute)
Speed
Acceleration

 
Rotary encoders are used in motion control applications that require a high degree of accuracy

Factory Automation
Industrial Controls
Laboratory Equipment
Medical Equipment
Robotics
With robust encoders constructed with integral bearings, bearingless modular designs with an easy lock-n-twist assembly feature, low profile assembled height, resolutions up to 20,000 lines per revolution, 4, 6, 8, 10 or 14-pole commutation, custom line counts and pole counts available, through shaft sizes up to 0.625" diameter, up to 1Mhz frequency response, high noise immunity, RoHS Compliant, hermetically sealed LED, IP66 rated enclosure and multiple mounting options including various resolver sizes, Quantum Devices is the smart choice for your motion control project.
Since 1989, Quantum Devices, Inc. has been a premier USA based optical rotary encoder manufacturer. Known for their innovation and industrial application knowledge worldwide – Quantum Devices has developed a full line of rotary encoders that fit multiple industries and applications.
For a review of your application contact Quantum Devices today, or visit our Rotary Encoder Store. If you cannot find what you are looking for, send a message and we'll help you figure it out!