Interview with a Manufacturing Process Engineer
December 6, 2021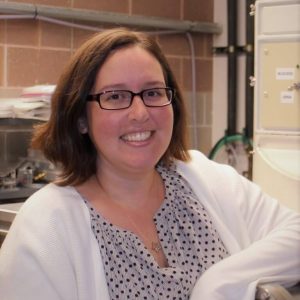 Samantha Lundt has worked as Quantum Devices' Manufacturing Process Engineer for 5 years. Her primary duties include overseeing the company's semiconductor cleanroom processes, which are currently undergoing an upgrade to support larger silicon wafers.
She earned two Bachelor of Science degrees from the University of Wisconsin-Madison, in Physics and Astrophysics. She earned the Hilldale Fellowship for undergraduate research in radio astronomy, studying the Magellanic Stream alongside members of the GALFA survey, utilizing the Arecibo telescope. This work provided data for publication by the consortium in The Astrophysical Journal. Additionally, Samantha returned to UW-Madison during the first 2 years of employment at Quantum Devices, where she continued her education in semiconductor device physics and fabrication.
This interview was initially published in Design World.
Talk about the culture at your company. What makes it inclusive or supportive of women in engineering and automation?
When I walked into the building for a facility tour, I was pleasantly surprised to see that a large percentage of the workforce were women, spread across the company from the assembly floor all the way up to department managers. Quantum Devices is a family-owned company, and the current operations are handled by the second generation. Therefore, they understand the value of family and the complexity of working full time while balancing home life. During the challenges of 2020, the team was flexible in terms of work arrangements for those of us with children who ended up being virtual for an extended period of time. There are many other places and people who were not as fortunate, and I am grateful for their compassion.
Thankfully, none of my male colleagues treat me differently for being a woman. Even people who may have been skeptical originally were more open to collaboration once they saw that I had expertise in semiconductor fabrication technology and that I truly listened to their concerns. The realization that I was there to help make sure everything went smoothly and more efficiently made the barriers vanish.
Describe a recent company project (in which you were involved) that went particularly well. How did you and your team go about ensuring success?
We are actually in the midst of this project right now. Quantum Devices makes its own silicon sensors for use in its encoder products. Due to the landscape of the electronics industry over the last couple of years, it was recognized that the company needed to upgrade all aspects of the cleanroom to accommodate new fabrication techniques, as well as larger, more readily available silicon wafers. This has been a multi-year project that has had its shares of successes and setbacks. That being said, the successes have come from collaboration between all members of the engineering team, countless hours of experiments and verifications, and the dedication to maintaining the quality product that our customers have come to expect. By going through this upgrade process rather than outsourcing our fab, we are striving to grow and move our business in new directions.
What first drew you to engineering and this industry?
Engineering wasn't my original career path but I have always loved science. To be honest, I did not realize that engineering encompassed more than structural disciplines until I was in college for the second time. That realization, combined with my experiences at QDI, really opened my eyes to the complexities and nuances of the electronics industry, and the excitement that physics had its place in this realm.
Describe your biggest career challenge. How did you solve it – or what was the outcome or lesson learned?
My biggest career challenge was actually just getting to this point in my career and finding a job where I felt I could use my science background on a daily basis. There was a lot of skepticism when I decided that I was going to leave high school a semester early to enroll in college and study astronomy. In fact, I was asked, "Isn't that a man's job?" That question propelled my desire to succeed to another level.
Graduating college and entering the workforce in mid-2008 was rough. I received more "thank you but no thank you" letters than I could even count. No one would give you a job without years of experience, but at the same time, there were very few jobs available to gain substantial experience. It was defeating, to say the least. For several years I felt like I was stuck in a holding pattern, continually toying with returning to school for a doctorate or finding a new passion. Then, as I was driving to work one morning, I noticed a sign with the word "Quantum" on it, which piqued my curiosity. After speaking with the president and touring the facility, I took a position with the company on the assembly floor, epoxying silicon sensors into encoder bases. After only a couple of months, I was starting to get trained on cleanroom-related processes, and by six months, I had officially been moved up to the Engineering department. By continually working hard, I have earned the trust of the company to head up new cleanroom projects, upgrades, and future research and development.
What career advice would you give to your younger self?
Always have faith in yourself, trust your instincts, and keep moving forward.
---
Related article: An interview with Jim Miller, one of QDI's application and design engineers.
For more information about Quantum Devices, or to ask our engineers a question, contact QDI online.