Miniature Rotary Encoder Boasts High Resolution and Built-In Brushless DC Motor Commutation
July 29, 2019
Quantum Devices, Inc. is announcing a new step forward in miniaturization of commutating/incremental, optical encoder technology. The new QM22 series of incremental encoders offers a super compact 22mm diameter and a 12.4 mm thickness. Ideal for high volume OEM applications and fits on a NEMA 11 BLDC servo motor. The QM22 offers high resolution and a great variety of electrical commutation options.
Along with its miniature form factor, the unit is capable of high precision positioning and is available with line counts up to 2500. Multiple integrated commutation output options including 4, 6, or 8 pole configurations eliminate the necessity for additional external commutation peripherals such as Hall Boards. Immunity from EMI/RFI noise greatly extends the range of suitable applications in which the QM22 series can be incorporated.
The QM22 miniature incremental encoder consists of a modular, bearingless design that features an easy to install Lock-n-Twist assembly method. With its hermetically sealed LED and Quantum's patented sensor design, the QM22 optical encoder is designed to maximize performance and reliability in its miniature package. The QM22 is also REACH and RoHS compliant.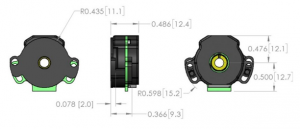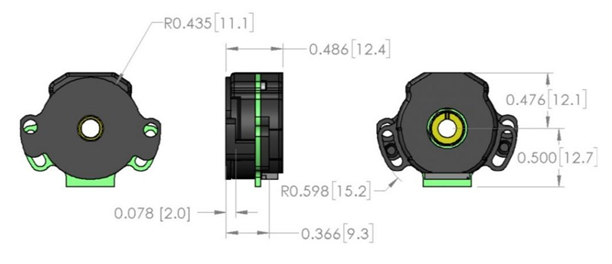 For OEMs with existing designs that utilize the now obsoleted Heidenhain/Renco R22i encoder line, the QM22 is an ideal replacement. Attractive OEM pricing, reduction of assembly time and elimination of ancillary commutation devices are the top benefits of the super compact QM22 encoder.
Quantum Devices is a manufacturer of high quality, high performance and high resolution miniature rotary encoders. For your custom quote, contact Quantum Devices today!