Inverted Flex Mount for QD145 Optical Encoder
July 19, 2014
O.
Another Way to Mount an Optical Encoder
Instead of using an end bell,  a lot of our motor manufacturer customers recess the QD145 optical encoder into an extended motor housing and then seal the motor with an endplate.
This has the advantage of being a lower cost item to manufacture, as the  motor housing is often extruded or cast. Just making the housing longer and providing an end plate usually costs less than casting a separate end bell.
But the downside to a recessed motor housing is that mounting an optical encoder in a recess like this creates a problem when tightening the set screws to the shaft. It often has to be done through an MS connector hole, or blind, by reaching the Allen wrench around and under the encoder.
Because of this, we occasionally get asked for a a version of our QD145 optical encoder that allows the assembler to  access the set screws above the body of the encoder. The inverted flex mount turns the encoder upside down allowing easy access to the set screws that are normally underneath the encoder.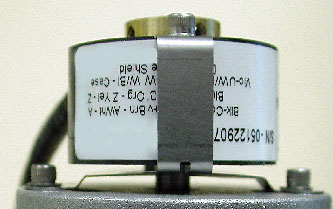 The QD145 inverted flex mounting option can be ordered using the following part numbers under the mounting options:
Use an 06 Mounting option for the inverted 1.575″ Bolt Circle flex mount.
Use an 07 Mounting option for the inverted 1.812″ Bolt circle flex mount.
The wiring is changed internal to the encoder so that the QD145 maintains correct phasing for all channels.
Another option for a drop in recess mounted encoder is the JR12 Jam Nut style encoder which does not use set screws to secure the encoder to the shaft, but a compression nut instead.
Dimensions for the 07 version of the QD145 Inverted Flex Mount