Encoder Solutions for Motion Control Applications
August 30, 2019
Quantum Devices as an optical rotary encoder supplier will be able to evaluate your motion control application and offer a solution for your motion control application.
Some applications that require rotary encoders:
Aerospace & Defense
Autonomous Mobile Robots (AMR)
Conveyor Applications
Elevators
Factory Automation
Galvanometer Scanners
Industrial Controls
Off-Highway Vehicles
Oil & Gas
Pulp & Paper Mills
Robotics
Rotating Radar Platforms
Steel Mills
Stepper Motors
String Potentiometers
Wood Processing
Mainly used in industrial and commercial applications, a rotary encoder, or rotary transducer, is an electromechanical device that is used to measure and convert rotary, or linear motion, into a digital signal. These devices are placed on shafts to help track and generate digital position and motion data. Encoders also have optional feedback (halls) to help ensure synchronization of a motor stator and rotor positions, also known as motor commutation.
An optical rotary encoder is comprised of an LED (Light Source), Photodiode (Light Detector), Code Disc and Signal Processors.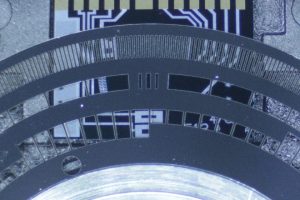 The Light Source passes through the Code Disc. This Code Disc can be made of etched metal, Mylar, or metal on glass. The Code disc has opaque and transparent segments which interrupt the light source. The interruption of the light source is detected by the photodiode sensor and those signals are processed and digitized for use by external control devices.
This signal helps to determine position and RPM that is used to validate the actual location and/or speed at which a machine or motor is running.
Information Needed for Encoder Solutions
A supplier will require specific information in order to recommend an appropriate encoder for your application. The information needed can include the following:
Resolution/Line Count
Commutation: Yes or No
Number of Poles
Shaft Style: Hollow or Solid
Shaft Diameter
Mounting Style
Bolt Circle Diameter
Operating Voltage
Max RPM
Operating Temperature Range
Maximum Temperature
If this is an existing application, what is the current brand and model number?
General Description of Application
Quantum Devices, Inc. is the premier encoder supplier that proudly manufactures their products in the USA. Contact Quantum today for an evaluation of your application.