QM22 Encoder Small in Size Yet Sports Big Commutation Device
October 20, 2020
Quantum Devices' QM22 encoder is a high-performance modular encoder that offers something unusual for an encoder of such a small diameter—a commutation device.
This 22mm encoder—sized barely bigger than your fingertips—is also competitively priced and designed for high volume OEM applications due to a design that works harder with a smaller footprint. Reducing the dimensions of this high-performance encoder while increasing the functionality is not a challenge many manufacturers take on.
However, Quantum Devices realizes the value of compact and miniature rotary encoders that serve several different sectors including military, commercial and medical systems. Motors in applications such as robotic and Cartesian systems continue to shrink, though accuracy requirements and motor torque requirements continue to increase.
What Sets this 22mm Encoder Apart From Other Encoders?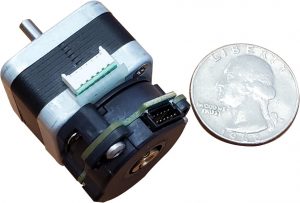 The QM22 encoder has a compact design, integrated BLDC motor commutation outputs, and is REACH and RoHS compliant.  Having both an encoder and a separate commutation device is the traditional construction of a BLDC motor, with both devices taking up axial space on the motor design. By combining the encoder and commutation device into one component, Quantum Devices reduces the space required for the motor/control package as well as minimizing cabling requirements. This encoder was designed to fit on a NEMA 11 BLDC servo motor.
Additional Features of QM22 Encoder
Built-in 4, 6, or 8 pole commutation options
Resolutions to 2500 pulses per revolution
Bearingless modular design
Immunity from EMI/RFI noise
Hermetically sealed LED
Easy Lock-n-Twist assembly method
Need Changes to Work in Your Customer Application?
Quantum Devices can customize encoders to meet your specific requirements. Contact us for more information.