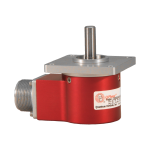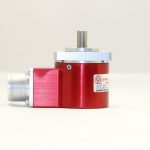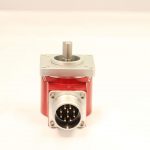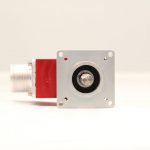 Download Spec Sheet
QDH20
Overview
About QDH20
Quantum Devices, Inc. Model QDH20 provides an improved feedback solution in applications typically using a standard size 20 package. The QDH20 provides encoder feedback in standard industrial mounting configurations with superb mechanical and environmental protection.
Outputs consist of a quadrature A & B with reference pulse Z as a standard feature. The output can be configured with either the 5 to 26 volt OL7272 line driver or open collector outputs. The QDH20 features two heavy-duty bearings holding the output shaft, and two more bearings along with an integral flexible spring mount to isolate the working pieces of the encoder from mechanical stresses.
Design Features:
500 kHz Fundamental Frequency Response
High Operating Temperature Option (100° C)
Resolutions up to 5000 lines per revolution direct read
Flange and Servo Mount Options
Solid shaft sizes up to 10mm
Hollow shaft sizes up to 0.625″ Diameter
High Noise Immunity
RoHS Construction
Specifications
Electrical Specifications
Input Voltage
4.75 to 26 VDC
Input Current Requirements
70mA Typical @ 5VDC Plus Interface Loads
Input Ripple
2% Peak to Peak @ 5VDC
Output Circuits
OL7272 High Voltage Line Driver:
VOL = .5V Max @ 20mA Sink
VOH = Vcc-.8V @ 20mA Source
RS422 compatible @ 20mA Source
Open Collector Output:
Sink up to 100mA
Incremental Output Format
Quadrature outputs with index pulse.
Accuracy
+/-1.0 arc minute
Frequency Response
500 kHz
Symmetry
180 Degrees +/- 10%
Minimum Edge Separation
54 electrical degrees at 100 kHz
Code
Incremental
Rise Time
Less than 1 µS
Electrical Protection
Reverse protected to .6 A Cont. 4 amp for 1 µS.
OL7272 outputs over voltage and short circuit protected
Environmental Specifications
| | |
| --- | --- |
| Storage Temperature | -40 to 125°C |
| Operating Temperature | -20 to 100°C Typical |
| Humidity | 98% Non-Condensing |
| Vibration | 20 g's @ 50 to 500 CPS |
| Shock | 50 g's @ 11 mS Duration |
| Sealing Option | IP 66 Solid Shaft, IP 64 Hollow Shaft |
Mechanical Specifications
Maximum Shaft Speed
8000 RPM (see factory for higher shaft speed)
Hollow Shaft Diameter Tolerance
0.375", 0.500", 0.625" (+.0006" to -.0000")
Solid Shaft Diameter Tolerence
0.250", 0.375", 10mm (+.0000" to -.0004")
Shaft Runout
001 T.I.R. (Max)
Bearings
Precision ABEC Double Shielded
Shaft Material
303 Stainless Steel
Bearing Life
1.5 X 10⁹ at Rated Load
Moment of Inertia
3.4 X 10⁻⁴ oz-in-S²
Acceleration
1 X 10⁵ Radians/ Sec²
Starting Torque
1.0 in-oz Max with no seal, 3.0 in-ox with shaft seal
Radial Shaft Loading
40 lbs, (80 lbs Max)
Axial Shaft Loading
40 lbs, (80 lbs Max)
Housing
Anodized Aluminum
Weight
13 oz. Typical
Termination
Radial Exit: 10, 7 & 6 pin MS, Wire Gland w 24" Cable
Axial Exit: 10, 7 & 6 pin MS, Wire Gland w 24" Cable

Mounting
Flange w/ 1.181" Female Pilot
Flange w/ 1.250" Male Pilot
Servo w/ 1.181" Female Pilot
Servo w/ 1.250" Male Pilot
Size 25 Flange and Pilot
Size 25 Servo and Pilot
2.250" Bolt Circle Flex Mount
Info & Pricing
More Information & Pricing
To get more information and pricing about this product, please tell us more about what you are looking for below and we can get you what you need:

Create an account
Create an account to gain access to all of our 3D models!
Create Account
Create an account to gain access to all of our 3D models!
Forgot Password