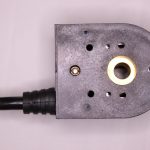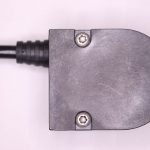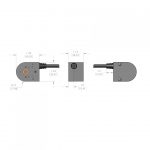 Download Spec Sheet
HR12 Optical Rotary Encoder
Overview
About HR12 Optical Rotary Encoder
Encoder Model HR12 optical rotary encoder provides an improved feedback solution in applications typically using modular encoders. The HR12 provides feedback capabilities where the others leave off – high line count resolution, high temperature operation, rugged bearing construction, large tolerance to radial and axial shaft play, commutation for brushless motor control, with a strain relieved cable. Quadrature output with index pulse and three-phase commutation provided with industrial 26C31 differential drivers. A flexible member allows for much greater tail shaft run out and TIR than can be tolerated by modular encoder designs, plus it provides 30 degrees of rotation for commutation timing. Use HR12 with our QC201 Commutation Indicator for fast, accurate motor encoder alignment.
Contact Quantum Devices to customize model HR12.
Design Features:
Mount compatible with HEDS encoders
Bearing design simplifies encoder attachment
Resolutions up to 20,000 lines per revolution
4, 6 or 8 pole commutation
Differential line drivers
Protective enclosure
Multiple bolt circle mounting
Through shaft sizes up to 0.375" (10 mm) diameter
High noise immunity
Cost competitive with modular encoders
500 kHz frequency response
RoHS construction
No centering tools required for easy assembly
Specifications
HR12 Electrical Specifications
Input Voltage
5 VDC ± 5%
Input Current Requirements
65 mA typical, 100 mA max plus interface loads
Input Ripple
2% peak to peak @ 5 VDC
Output Circuits
A = 26C31 line driver (RS-422 or single-ended TTL)
B = ABZ 26C31 line driver, UVW open collector (no U' V' W')
Incremental Output Format
Quadrature with A leading B for CW rotation
Index pulse true over A and B high
Max Operating Frequency
500 kHz
Symmetry
180° electrical ± 10% typical
Minimum Edge Separation
<4000 PPR = 54° electrical
≥4000 PPR = 45° electrical
Commutation Format
Three phase 4, 6 or 8 poles (other pole counts upon request)
Commutation Accuracy
± 1° mechanical
Z Channel to U Channel
± 1° mechanical
HR12 Environmental Specifications
| | |
| --- | --- |
| Storage Temperature | -40 to 125°C |
| Operating Temperature | -20 to 115°C |
| IP Rating | IP52 |
| Humidity | 90% non-condensing |
| Vibration | 20 g's @ 50 to 500 CPS |
| Shock | 50 g's @ 11 ms duration |
HR12 Mechanical Specifications
Bore Diameter (Tolerance)
0.125", 0.1875", 0.250", 0.3125", 0.375", 3 mm, 4 mm, 5 mm, 6 mm, 7 mm, 8 mm, 10 mm (+0.0006/-0.0000")
Recommended Shaft Engagement
0.500" minimum
Allowable Shaft Runout
0.007" TIR
Axial Shaft Movement
± 0.030"
Maximum Shaft Speed
8000 RPM
Interface Connector
Connector: JAE P/N FI-W15P-HFE
Mounting
HEDS Compatible:
#0-80 screw 3 places on 0.823" bolt circle
#2-56 screw 2 places on 0.750" bolt circle
Moment of Inertia
9.1 x 10⁻⁵ oz·in·s²
Acceleration
1x10⁵ radians/s²
Accuracy
Instrument error 1.5 arc minutes max
Info & Pricing
More Information & Pricing
To get more information and pricing about this product, please tell us more about what you are looking for below and we can get you what you need:
Consult factory for configurations not shown (e.g. resolution, commutation, etc.).

Create an account
Create an account to gain access to all of our 3D models!
Create Account
Create an account to gain access to all of our 3D models!
Forgot Password