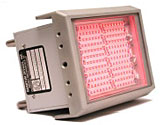 LED Hybrid Lamp
Design Features:
High Intensity Illumination Surface
Excellent Illumination Uniformity
Low Peak Wavelength Tolerance (+/- 10nm)
Surface Energy: 50mw/cm2 minimum (670, 735 & 880nm units)
Narrow LED Full Width Half Max. Energy Bands (25-35nm)
The SpectraLife is designed for use in laboratory research applications requiring monochromatic illumination. More specifically indications which call for re-agent grade illumination of petri dishes with cell samples or for photostimulation and other photobiological research.
This SpectraLife System is composed of a monolithic array of hybrid GaAlAs light emitting diodes designed to emit diffused monochromatic light. Available wavelengths range from visible (>650nm) to near infrared (<900nm). The LED chips have been custom fabricated to emit specific peak wavelengths of photon energy. The system has been designed to deliver high intensity light energy to an isolated area of exposure without heat.
The illumination diameter of the LED lamp housing is slightly larger than 4 x 6 inches. Temperature at the output surface will be <40°C Output uniformity will be ±20%. Output energy (mW/cm2) and emission wavelength will be application specific.
The SpectraLife will be factory calibrated for proper LED wavelength and intensity. Calibration documentation will provide the user with LED wavelength and bandwidth intensity information.
The SpectraLife Hybrid Lamp housing contains the ceramic substrates on which LED arrays are assembled. A fan is mounted on the opposite side of the light source to keep the monolithic system running cool with the aid of air flow ducts cut into the sides of the housing. This patented construction of the Hybrid Lamp allows for maximum conversion of radiant energy from the LED chips.
The LEDs are shielded by a glass barrier and are unlensed, allowing for even dispersion of light over a 180¡ viewing angle. This allows each LED chip to act as a point source offering a high degree of illumination uniformity.
Typical LED wavelengths are 670nm, 735nm and 880nm. Consult factory for custom configuration and peak wavelengths between 640nm and 940nm.